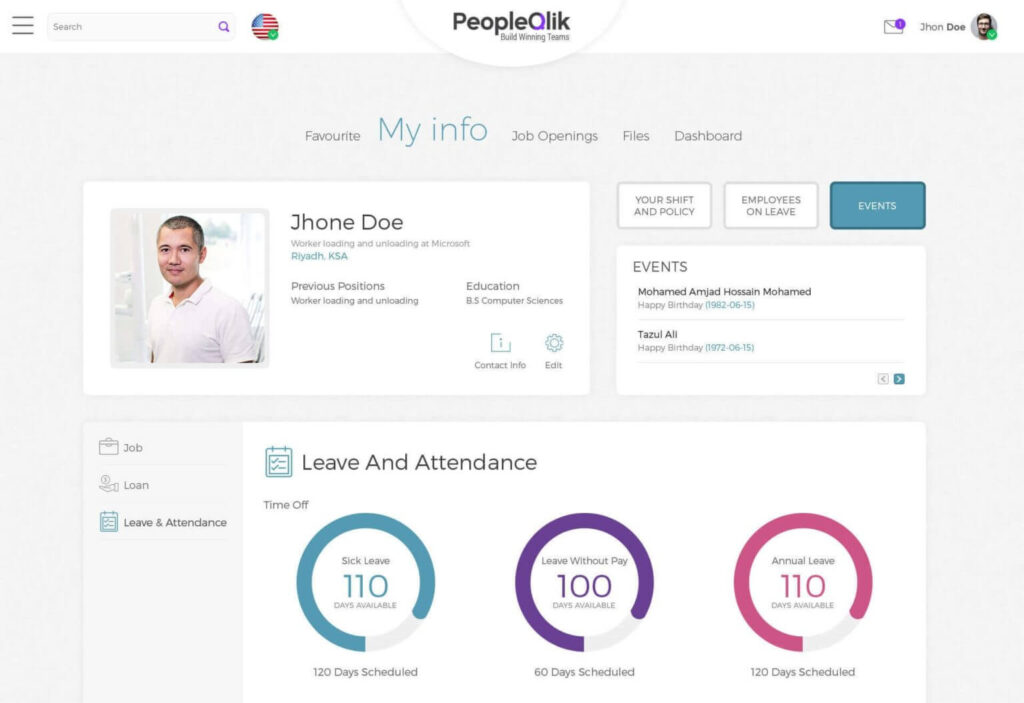 What Are The Benefits Of Attendance Software in Saudi Arabia For The Employees?
PeopleQlik#1 Attendance Software in Saudi Arabia helps identify the employees outperforming their tasks from the others performing averagely or poorly. For any organization to grow with increasing changes in society, it is necessary for the organization's human resources to comply with federal regulations. It is also essential to maintain continuous control over the productivity and efficiency of your workforce and work.
PeopleQlik#1 Attendance Software in Saudi Arabia
Unfortunately, however, many HR professionals were upset by the use of fragmented and disorganized solutions. To add to this many uses, various systems that increase the complexity of the work, also increasing the use of paperwork, manual re-insertion of employee information, which also results in an increase in manual error organizations, provision to provide feedback and training, depending on the performance of the employee. In cases that show an employee's positive grades – it's a sign that the organization is in the right direction, it also focuses on the employee's success.
The performance management system helps motivate employees
Recruitment Software in Saudi Arabia ensures that continuity of feedback and tracking is maintained. Planning, monitoring, reviewing objectives and a performance management program are essential to promote and improve employee effectiveness. It involves an ongoing process in which managers and employees work together to plan, monitor and review individual goals and contributions to the agency. Regular feedback will help seniors retain the organization's talent. Performance feedback helps provide recognition and rewards to employees who deserve it, which also helps to increase employee motivation and improve self-esteem.
Identifying employee strengths and weaknesses
PeopleQlik's Payroll Software in Saudi Arabia helps managers to clearly understand their employees' skill sets and abilities. In this way, managers can provide feedback, appreciation, rewards to the employee with superior performance and training for individuals who need improvement. Our solution will help to create a transparent work environment. Our performance management system will help managers to allocate work fairly, based on score analysis.
Improve employee engagement
A performance management system can be an addition to employee engagement. If employees are satisfied with the PMS solution, they are motivated and are less likely to leave the organization. Employee involvement is vital for HR to encourage employee retention. Improves employee involvement, commitment, inducing passion and motivation for work. This helps to inspire the employee to work toward the agency's goal.
Increase the number of responsible employees
An efficient HR Software in Saudi Arabia provides employees with the clarity of what is expected of them, with feedback and analyzes to perform their tasks with maximum efficiency. Continuous feedback with quality suggestions provides employees with information on how to improvise in their work. This will increase employee growth and development. HRD can easily align employees' goals with those of the company in this way, in addition to achieving absolute ease in tracking progress. Improvement in an employee can be brought about through training, helping employees to learn job support knowledge and improving skills in their current job
PeopleQlik's performance management system helps to optimize HRD, tracking employee progress, keeping employee documents in a systematic order and emphasizing two-way communication. Our solution also provides more informed reports and analysis for promotions, transfers, performance-based rewards, etc. Management can have a clearer understanding of their employees' work status and help them make fair decisions. Management can align strategic business goals with employee performance, ensuring that all employees receive accurate and unbiased performance feedback.

Attendance Solution in Saudi Arabia
HR System in Saudi Arabia
Payroll Software in Saudi Arabia
Recruitmen Solution in Saudi Arabia
Leave Management System in Saudi Arabia