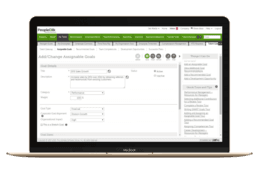 HR Software in Saudi Arabia is a key for flourishing business in Saudi Arabia
PeopleQlik #1 HR Software in Saudi Arabia makes managing people simple, will save you (and everyone else) a lot of time and will keep your most valuable asset happy and focused on the job at hand.
Affordable HR software will automate the time-consuming tasks which you want to do, so you have more time to come up with that incredible idea which will take your business to the next level.Human resources software can help you to keep track of all points of development for your employees, from performance to training courses they've attended.With modern HR software, all the information you store is extremely secure and you can set permissions on who can access what information.With HR software you can implement more careful holiday planning and know the data behind absence.
PeopleQlik #1 HR Software in Saudi Arabia
Payroll Software in Saudi Arabia facilitates the calculation of salaries, the payment to employees through direct deposit and the payment of taxes for companies that wish to manage their payroll internally. We compared popular options and rising stars. These cloud-based solutions make the most sense for small businesses because of ease of use and affordability.