Ojoor # 1 is one of the top Payroll System in Saudi Arabia Efficient management of employee compensation is crucial. One aspect that often demands careful oversight is overtime pay. Overtime can significantly impact a company's bottom line, and failing to manage it properly can lead to compliance issues and financial strain. This is where a robust payroll system comes into play. 

Ojoor #1 Payroll System in Saudi Arabia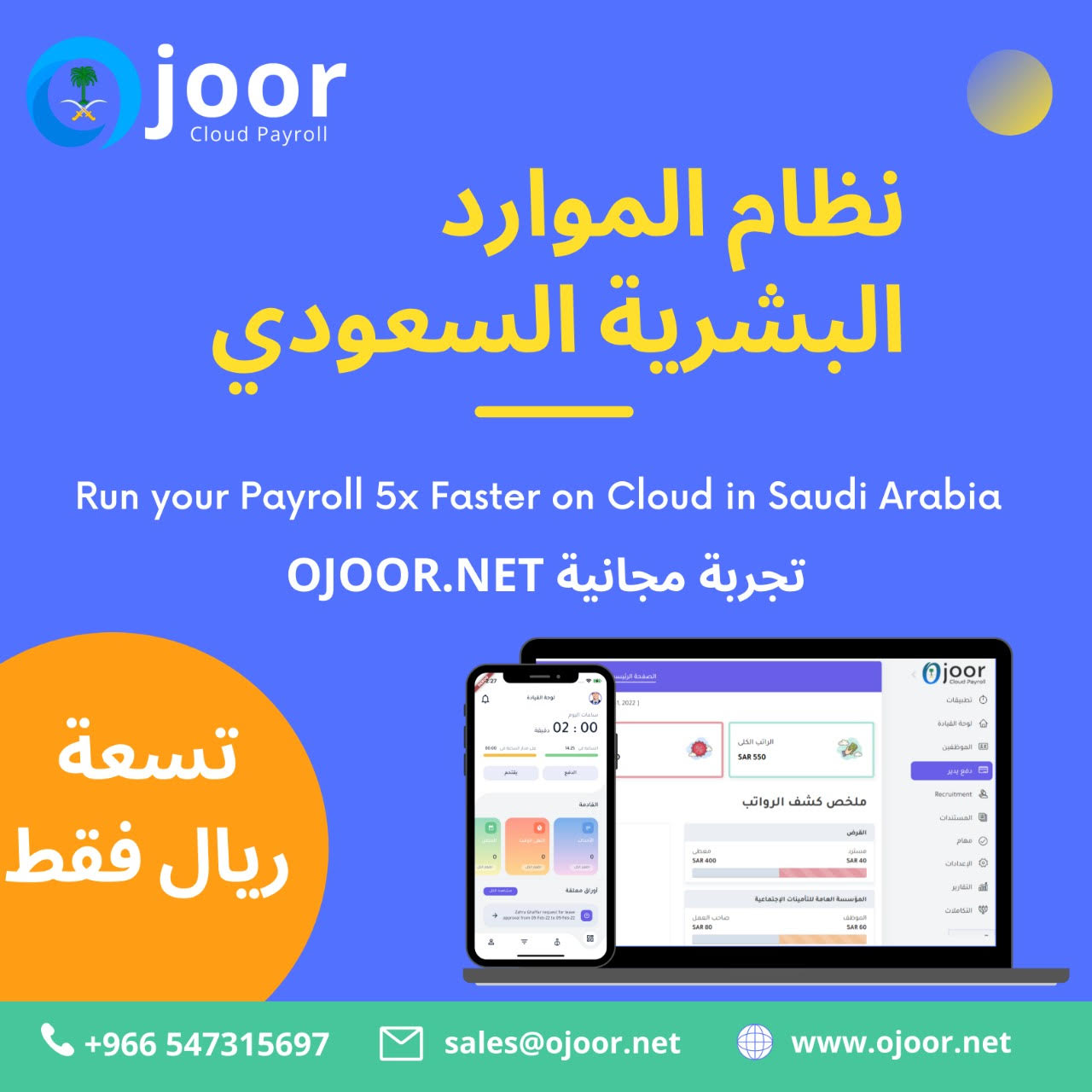 In this blog, we will explore how a Payroll System in Saudi Arabia can streamline the tracking and management of overtime pay, benefiting both employers and employees.
Automated Time Tracking
One of the primary ways a payroll system helps with overtime management is through automated time tracking. With manual timekeeping methods, such as paper timesheets or Excel spreadsheets, errors are more likely to occur. These errors can result in inaccurate calculations of overtime hours and subsequent compensation.
A payroll system, on the other hand, can automatically capture employees' clock-in and clock-out times. This data is then used to calculate regular working hours and identify overtime hours accurately. Automation reduces the likelihood of human errors and ensures that employees are compensated correctly for their extra efforts.
Real-time Overtime Monitoring
Payroll System in Saudi Arabia offers real-time visibility into employee work hours, including overtime hours. This real-time monitoring allows employers to proactively address overtime concerns. For instance, if an employee is approaching their maximum allowable weekly overtime hours, the system can generate alerts or notifications. This allows supervisors to make informed decisions about staffing and workload distribution to prevent unnecessary overtime costs.
Compliance with Labor Laws
Managing overtime pay is not just about convenience; it's also about compliance with labor laws. Different regions and jurisdictions have specific regulations regarding overtime pay rates, weekly limits, and eligibility criteria. A payroll system can be programmed to automatically apply these rules, ensuring that the company remains compliant with labor laws at all times. This reduces the risk of costly legal disputes and penalties.
Streamlined Approval Processes
In many organizations, overtime hours require managerial approval before they can be processed for payment. Payroll Software in Saudi Arabia can streamline this approval process by allowing managers to review and approve overtime hours electronically. This not only saves time but also ensures that overtime records are well-documented for auditing purposes.
Accurate Calculation of Overtime Rates
Overtime pay rates are typically higher than regular pay rates, often calculated at 1.5 or 2 times the regular hourly wage. A payroll system can accurately calculate these rates, taking into account various factors like double-time pay, holiday pay, and shift differentials. This ensures that employees receive the correct compensation for their extra hours worked, leading to higher employee satisfaction and reduced payroll disputes.
Historical Data Analysis
A payroll system also provides the advantage of historical data analysis. Employers can review past overtime trends and patterns to identify areas where overtime costs can be minimized. For example, if certain teams or departments consistently incur high overtime expenses, management can investigate the root causes and implement strategies to address the issue, such as hiring additional staff or optimizing work schedules.
Enhanced Reporting and Transparency
Transparency in overtime pay calculations is crucial for maintaining trust between employers and employees. A payroll HR System in Saudi Arabia generates detailed reports that can be shared with employees, providing transparency about their hours worked and overtime pay. This transparency not only helps in building trust but also allows employees to better plan their finances.
Integration with HR and Accounting
A payroll system is often integrated with HR and accounting software, creating a seamless flow of information across different departments. This integration ensures that overtime hours and payments are accurately recorded and accounted for in financial statements. It simplifies the overall financial management of the company.
Efficiently tracking and managing overtime pay is vital for both employers and employees. A payroll system offers a comprehensive solution to this challenge, automating time tracking, ensuring compliance with labor laws, and providing real-time visibility into overtime hours. By implementing a Payroll System in Saudi Arabia, companies can reduce errors, save time, and optimize their overtime expenses, leading to improved financial stability and employee satisfaction. As businesses continue to evolve, leveraging technology like payroll systems becomes not just a luxury but a necessity in the pursuit of operational excellence.

Payroll System in Saudi Arabia
Payroll System in Saudi Arabia
Payroll System in Saudi Arabia
Payroll System in Saudi Arabia
Track & Manage overtime pay with Payroll System in Saudi Arabia similar software solutions prices were updated on 2023-11-28T10:31:51+00:00  in Saudi Arabia in Mecca, Medina, Riyadh, Khamis Mushait, Yanbu, Jeddah, Dammam, Unaizah, Uqair, Ha'il, Ta if, Al Bahah, Dhahran, King Abdullah Economic City, Najran, Diriyah, Qatif, Khafji, Jubail, Abqaiq, List of Cities and Towns in Saudi Arabia, Ras Tanura, Turubah, Jazan Economic City, Knowledge Economic City, Medina, Khobar, Abha, Tabuk, Saudi Arabia,




similar software solutions prices were updated on 2023-11-28T10:31:51+00:00  We also provide in Saudi Arabia services solutions company in Hafar Al-Batin, Udhailiyah, Al-Awamiyah, Hofuf, Hautat Sudair, Buraidah, Tayma, Duba, 'uyayna, Saihat, Al-Kharj, Al-ula, Jizan, Rumailah, Ar Rass, Arar, Shaybah, Al Majma'ah, Rabigh, Dhurma, Haradh, List of Saudi Cities by Gdp Per Capita, Badr, Sudair Industrial City, Baljurashi, Shaqraa, Al-Khutt, Habala, Ad Dawadimi, Dawadmi, Layla, similar software solutions prices were updated on 2023-11-28T10:31:51+00:00  Price is SAR 100 and this was updated on updated on 2023-11-28T10:31:51+00:00

similar Track & Manage overtime pay with Payroll System in Saudi Arabia software solutions prices were updated on 2023-11-28T10:31:51+00:00  in Saudi Arabia in Haql, Afif, Al-Abwa, Farasan, Al-Jaroudiya, Thadig, Al-Thuqbah, Al Wajh, Almardmah, Al-Zilfi, Muzahmiyya, Prince Abdul Aziz Bin Mousaed Economic City, Tharmada'a, Skaka, Um Al-Sahek, Sharurah, Tanomah, Bisha, Dahaban, Al Qunfudhah, Qurayyat, Saudi Arabia, Ha'ir, as Sulayyil, Al Lith, Turaif, Al-Gway'iyyah, Samtah, Wadi Ad-Dawasir, Az Zaimah, Safwa City, Jalajil, Harmah, Mastoorah, Hotat Bani Tamim, Jabal Umm Al Ru'us, Rafha, Qaisumah, Al-Ghat, Hajrah, Al-Hareeq. Excerpt: Jeddah (also spelled Jiddah, Jidda, or Jedda; Arabic: Jidda) is a Saudi Arabian city located on the coast of the Red Sea and is the major urban center of western Saudi Arabia similar software solutions prices were updated on 2023-11-28T10:31:51+00:00  Price is SAR 100 and this was updated on updated on 2023-11-28T10:31:51+00:00
06-09-2023