Request Free Demo: Click on Whatsapp number below to start Whatsapp Chat with Sales Team
When we say analytics or workforce analytics, most people imagine rows and columns of gigantic data that are too difficult to collect and analyze and, therefore, too much effort for them to carry out. In addition, they may not be sure of the usefulness of the analytics and their added value to the organization.
In organizations, Chatbot & AI enabled HR Analytics Software has been under the supervision of analysts who have moved away from functional teams and do their own analytics, which may never reach the people for whom it is intended or, even if it does, not to the right hour. Here are 6 skills of HR Analytics which will help you in adding value to the business.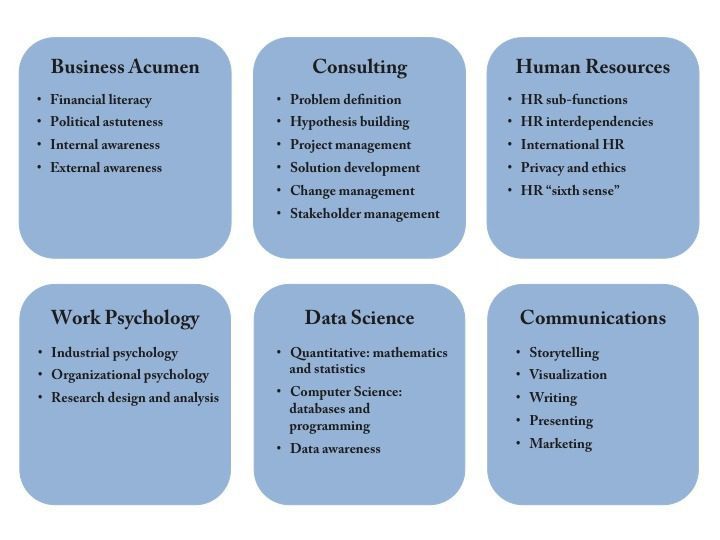 The vision for business:
Business acumen refers to the speed and ability to interpret and solve business challenges. It's great if everyone on the team has some degree of business acumen, but it's especially important for the leader. The figure lists the secondary skills that are included in this category; financial literacy, political cunning, internal awareness and external awareness.
Consulting skills:
Consulting skills emerge frequently in planning with the analytics managers about the skills most needed for success. Deepening more exposed that when these expert discussed consulting skills, they referred to the capability to visibly define troubles, create hypotheses about the causes of troubles, suggest solutions and deal with the process of managerial transform while keeping stakeholders satisfied and the project is ongoing.
Human resources:
The leader in workforce analytics often came from a non-HR background, but someone on the team always had a deep background in Human Resources. This usually was in one of the functional specializations of Chatbot & AI enabled HRMS Software (such as recruitment or learning), human resources strategy or international human resources. These people often have a sixth sense of what is right and wrong when it comes to making decisions about people. Make sure you have these skills in your team!
Work psychology:
Work psychologists take science to Hr Analytics. Industrial psychologists have a deep understanding of the causes of common performance problems at the individual level. Organizational psychologists focus on the productivity of teams and business units. Work psychologists can save you years of work by researching the causes of common HR problems, simply by telling you what the scientific literature says about the causes of common HR problems.
Data science:
The science of data in workforce analytics describes two broad sets of skills. The first set of skills is quantitative and refers to the ability to build mathematical and statistical models of organizational processes such as desertion. The second broad area is computing. These skills involve managing databases and programming. People with these skills are data experts, those who can extract data from multiple systems and shape an adequate structure for the analytics of their mathematicians and statisticians.
Communications:
The best analyzes in HR analytics fail when they do not communicate well. We were advised over and over again that successful projects tended to have a common denominator: all were well communicated with Chatbot & AI enabled Performance Management Software . Communication skills must be a requirement of everyone on the team. You must ensure that at least one person has strength in areas that include narration, visualization, presentation, writing, and marketing. If necessary, you may decide to look for an expert in external communications.
https://www.youtube.com/watch?v=RHXUYKznjHo
Here is the list of features which you can get by using PeopleQlik:
PeopleQlik Core

Core HR Software – HRMS
Cloud Payroll Management Software
Employee Self Services
HR Analytics Software
Corporate Wellness Platform

Talent Management Software

Recruitment Management Software
Applicant Management
New Hire on Board
Succession Planning

Performance Management Software

360-degree feedback form
Compensation Planning & Administration
Social Recognition
Request Free Demo: Click on Whatsapp number below to start Whatsapp Chat with Sales Team