Request Free Demo: Click on Whatsapp number below to start Whatsapp Chat with Sales Team
Attendance Software is undoubtedly one of the crucial factors of the corporate world. The presence of employees in the workplace means two things; improved productivity that results in good earnings for the employer and two, an opportunity for employees to earn their salaries. Therefore, it is important to have a Chatbot & AI enabled Attendance Software that tracks employee attendance effectively to ensure that this situation of mutual benefit remains balanced.
Before technology became an integral part of the corporate world, companies relied on accounting books to record employees' daily attendance, a system that had a number of drawbacks. Today, modern offices rely on more efficient software.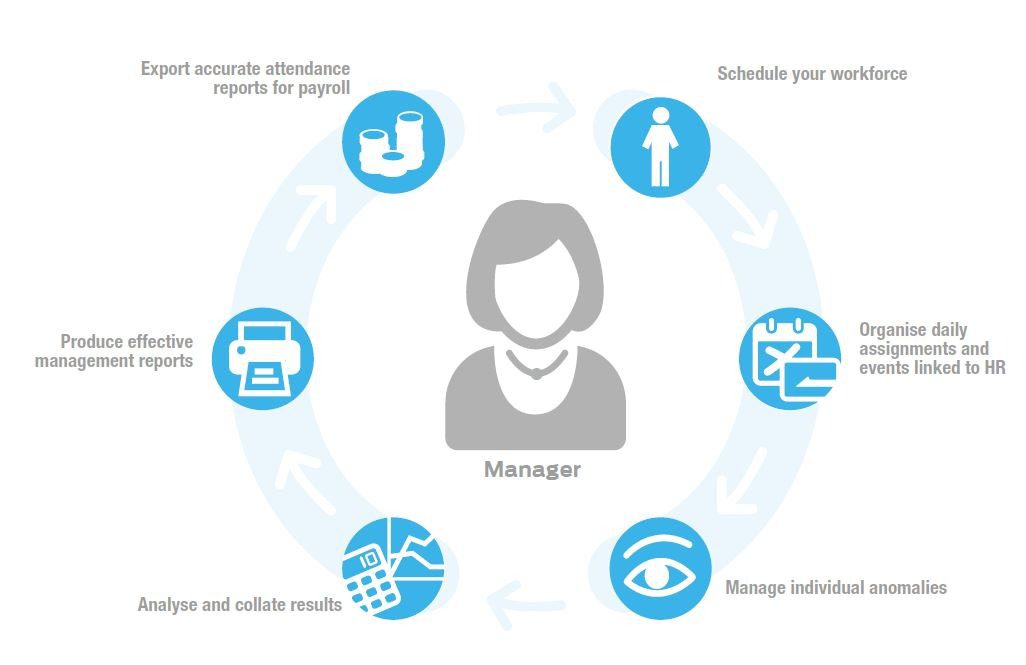 Best Features you should expect by implementing Attendance Software:
Bio metric attendance system
Attendance monitoring
Pause time tracking software
No more manual errors of any kind in attendance management
There is no room for 'theft of time' for employees
Simplicity of being browser-based software
Pay as you grow
Manage attendance at your fingertips
Benefits of Attendance Software:
The HR department has the task of monitoring the attendance of the employees and preparing the payroll. This software helps in several ways, which include:
Efficient tracking of employee attendance and performance:
Chatbot & AI enabled Performance Management Software monitors the presence and absence of all employees more efficiently. It maintains important aspects such as the time of entry and exit of employees, overtime, half days, maximum license, permission without approval and absenteeism, etc. This facilitates control of employee attendance and performance.
Simplify the process with automated calculations:
Preparing a payroll can be a long and complex process when done manually. This is because there are many variable payment components involved. Attendance Software helps simplify this process, as it makes automated calculations.
Precise calculation of salaries:
With accurate information about employee attendance and performance, it is easy to calculate employee salaries accurately.
Allows easy remote access:
It is a cloud-based system that allows easy remote access to information from anywhere. This allows human resources personnel to access information easily and conveniently.
Apply discipline and increase productivity:
With the understanding that they cannot cheat the system, employees have no choice but to adhere to the company's policies regarding assistance. When workers are more punctual, productivity improves and so do profit margins.
It plays a crucial role in the evolution of the attendance from the manual to the automated Chatbot & AI enabled Leave Management Software that has helped eliminate the hassle and tediousness of record keeping. It is a complete set of time sheet software, permissions, expenses, projects, time tracking, advanced reports, etc. It certainly makes work easier, so it's worth the money in the long run.
Here is the list of features which you can get by using PeopleQlik:
PeopleQlik Core

Core HR Software – HRMS
Cloud Payroll Management Software
Employee Self Services
HR Analytics Software
Corporate Wellness Platform

Performance Management Software

360 degree feedback form
Compensation Planning & Administration
Social Recognition

Workforce Administration

Leave Management Software
Time and Attendance Management Software
Shift & Scheduling
Claims & Reimbursements
Timesheet Management Software
Request Free Demo: Click on Whatsapp number below to start Whatsapp Chat with Sales Team